Freeing oneself from physical limitations, giving free rein to one's imagination, creating timeless objects or simply establishing oneself in a new and rapidly expanding market are all reasons why the fashion world is so interested in the metaverse.
In a virtual world where the number one thing that differentiates one avatar from another is what it wears, customization options are always in high demand. Thus "Skins", these outfits dressed as a video game character, already generate more than 2 billion dollars a year in Fortnite and are the source of numerous partnerships with famous brands such as Balenciaga or Air Jordan.
Metaverse's specialty in this area lies mainly in two points. First, where a video game skin is a cosmetic side effect with little impact on the user experience, clothing, apparel, and other customization options are placed at the heart of every Metaverse experience. Another novelty is that thanks to the operation on the blockchain of the main metaverse, these objects then take the form of NFTs, thus allowing the user to own these virtual objects, even if he wishes to exchange or sell them.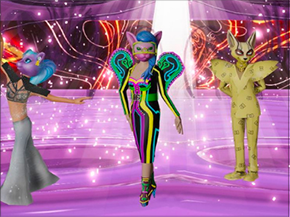 One of the first metaverses to truly embrace this new technology is surprisingly one of the most famous: Decentraland. Thus, Decentraland hosted the first "Metaverse Fashion Week" from March 24 to 27, bringing together a large number of brands with the participation of Dolce & Gabbana, Etro, Tommy Hilfiger, Estee Lauder and Elie Saab. Between parades, virtual store openings and collection presentations, the 4 days of this first Metaverse Fashion Week will allow hundreds of participants to discover fashion in a new light.
If some problems are noticed, among scheduling problems, quality of customer experience in stores, pixelation or even lack of fluidity of decoration, Decentraland Fashion Week will qualify to embody a pioneering project in the world of fashion. In total, more than 70 brands have responded to establish themselves in this common Web 3.0, starting a dialogue on the future of luxury and digital fashion, especially on community and e-commerce issues.